Reading Time:
4
minutes
Innovative water features are great for adding a unique accent to your home or garden landscape. Adding water features to your landscaping project can be tricky, and they do not need to be expensive. Many terrain features, such as fountains and ponds, can add beautiful designs to your landscape. They also make a relaxing noise that is sure to take away stress.

There are many creative ways to portray water in your garden. Many different types of landscapes can show off a fountain or pond. You can choose from designing a modern home landscape or an old-fashioned traditional one. It is crucial to pick a suitable water feature for your garden because they are not cheap.

Remember when we say creative, we don't mean tacky, like a yard full of statues and fountains for no reason. Water features can be beautiful and functional in a contemporary home. For example, some fountains look like a sculpture or a city accent. Water features are also helpful in preventing water erosion in your landscape. They are great because they are versatile and beautiful for all landscape designs.
Background
Fountains are great to add to your landscape and home because they can be used in many different ways. There are many different fountain designs and sizes to fit your needs and budget. Fountains and water features have been used for hundreds of years by homeowners. Choosing the right spray for you is up to you, but you must take time to research them before purchasing the perfect water feature for your home or garden.
Benefits of having a water feature in your garden
Relaxing Sounds
Innovative water features can provide a relaxing atmosphere and beautiful sound to your home or garden. Many different types of water features can give relaxing sounds. Water features are great for adding another dimension to the environment, whether a simple tabletop fountain or an entire pond. The best thing about having a water feature in your garden is the soothing noise they produce.
Water Erosion Control
Water features in your garden help to prevent water erosion. Having something in the yard that produces a constant water source will prevent the soil from drying. This is good because it keeps the ground moist and prevents weeds from growing. Water features also help control grass or other vegetation since they provide a reliable water source.
Ease of Maintenance
Water features are made to be simple and easy to maintain. There are many different designs available for you to choose from. This is great because you will have a lot of fun, but it doesn't have to be that complicated. You can do it yourself with little effort or hire someone else for help if needed. Water features can be a one-person project since they are simply a piece of sculpture mounted on the ground.
Ease of Cleaning
Water features are effortless to clean. If you ever have to get rid of them or need to re-fill, you must drop some water from the top or use a hose to clean it. This keeps the garden looking pristine and neat.
Natural Resources
Water features help harness your natural resources without harming them. For example, you can use water to create your energy. With rain and natural streams running through your backyard, you can harness the power and produce electricity. There are many ways to incorporate water features into your home or garden. They can be used to provide for some of the needs of the house, and they usually don't take a lot of maintenance. A huge environmental benefit is wildlife that can be attracted, such as frogs and insects that help the ecosystem.
Costs for different types of water features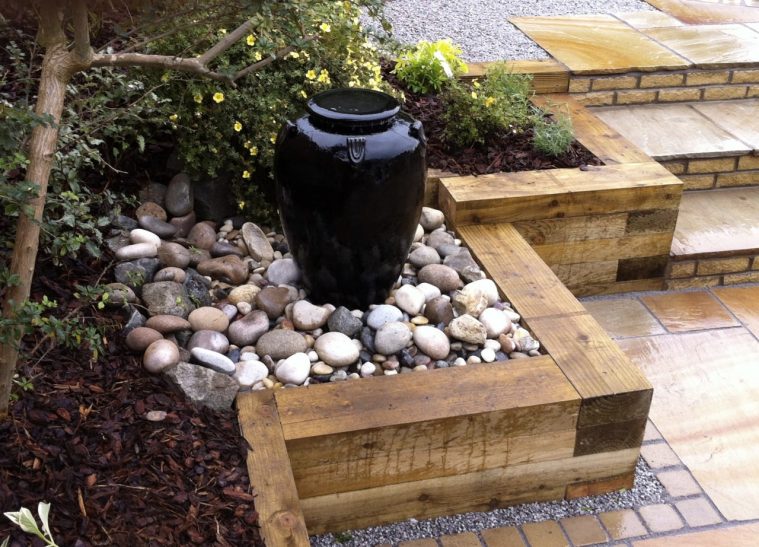 The most expensive water feature is, of course, a pond. Ponds can be very pricey because they take up a lot of space. They are also hard to install. However, they can be used for many different things. Ponds are great because you can switch the design and use it for other years. You can use them during the summer to grow vegetables, or you could build a swim platform around it in the wintertime when it is too cold to swim outside.

Small fountains or tabletop fountains are the next cheapest option. You can buy these for a more affordable price because they are smaller and easier to install. Most people buy them as decorations for their homes, but you can use them as a water feature in your garden.

The least expensive water feature is a simple stand-alone water fountain. This is usually purchased by homeowners who have smaller yards or don't want anything significant put in the yard. It is generally made of plastic and can be bought for a lower price. These fountains are great for smaller yards or people who want a little fountain in their front yard.
How to go about getting a water feature installed
There are many different ways to install a water feature for your home or garden. The best way to start is by sketching what you want and need for your new garden design. Then you can talk to your contractor about the options you would like for your yard and what features you can do without.

Once you find out what you want, you can go from there and start searching for landscaping companies that offer the services of putting in the water feature that fits your needs. You can visit websites that provide the benefits of water features, or you can go to a local hardware store and ask for help finding the right one for your garden.
For professional advice from landscapers who install water features every day, see: How Different Water Features Can Bring Your Garden To Life by Groby Landscapes.
Conclusion
Numerous individuals had used water features in their gardens for years, long before anyone realized the benefits of having a garden fountain. Having a water feature opens up a whole new world to the landscape designer that may need to create a unique design for your yard or home.
Thank you for reading!