Reading Time:
10
minutes
Why does cast iron rust?
Pig iron, steel, and various alloys are combined to form the base material of our cast iron cookware. Cast iron is susceptible to rusting if it does not have a protective layer of carbonized oil, which is referred to as "seasoning." Rusting can occur in even the most well-seasoned pan if it is left to soak in the sink, placed in the dishwasher, allowed to air dry, or stored in an area that is prone to moisture buildup.
Remove Rust From Cast Iron:
It is not necessary to throw away a cast-iron skillet simply because it has a little bit (or a lot) of rust on it. Think about it the next time you're at an antique shop or a flea market and you see some old pots and pans with a rusty patina on them. If you want your cast-iron cookware to look as good as new, all you need to do is follow these five simple steps.
How To Remove Rust From Cast Iron
Because it is so solid and long-lasting, cast iron can be used for a very long time without being replaced. It only takes a small amount of carelessness for this amazing black substance to turn blood red and shatter into pieces. Rust damage can be caused by several factors, including storage in a humid environment, improper seasoning of cookware, and insufficient anti-rust painting on furniture. If you are willing to put in the time and effort, you can undo a significant portion of the damage that has been done. By applying these straightforward anti-rust strategies to your skillet or garden bench, you may transform them into heirloom-quality items.
How to Preserve the Seasoning on Cast Iron Cookware:
Now that the rust on the cast iron pan has been effectively cleaned, it has been properly seasoned, and it is ready to be used for cooking. But how can you keep it up on a daily basis? This is what I am involved with.
After I have completed cooking in the pan, I quickly empty the contents of the pan into a bowl and then rinse the pan under running water to remove any residue. If there are any food particles stuck to the pan, I gently scrub them away using a fiber scrub pad to remove them.
There is no dishwashing detergent in my routine. After rinsing the pan, place it on the stove and turn the burner to its highest setting. Once it is completely dry, I turn off the stove and leave it in that state. On a daily basis, I do not reapply oil once it has dried. But if you do not wish to reseason the pan, you should proceed in this manner.
In contrast, I give my cast iron skillet a thorough cleaning once every two weeks by scrubbing it with liquid dish soap and going through the processes I outlined in the section titled "How to Season a Cast Iron Pan."
How to Season a New Cast Iron Pan That Has Not Been Used Before
I purchased a new cast iron tawa at a Metal Expo that I went to with my husband since I was really happy with how well and easily I can care for my lodge cast iron pan.
It was a tawa with a diameter of 12 inches that I had purchased for a song, and I couldn't wait to start using it to make dosas. However, it was a pan that had not been seasoned, and before I could use it, it needed to be seasoned properly.
Preparing-New-Cast-Iron-Pan
What you'll need is the following:
A new, unseasoned cast iron pan or a normal cast iron pan is also suitable options.
After cooking rice, there will be starch water.
Rock Salt
Instructions:
Put the tawa or cast-iron pan on the stovetop and turn the heat up to high.
Place the pan or tawa over high heat and add the starch water. Bring the mixture to a boil.
As soon as it reaches a rolling boil, turn off the heat and allow the pan to drop down to room temperature.
Remove the starch water from the pan, rinse it thoroughly, and set it aside. It is not necessary to scrub.
Removing Rust from Cast Iron Cookware
If your skillet has even the slightest bit of rust on it, you should immediately stop using it for cooking. After you have restored its previous form, you will give it a fresh seasoning, and then you will be ready to leave.
MATERIALS AND TOOLS Available on Amazon
White vinegar
Steel wool scouring pads
Liquid dish soap
Clean cloth
Cooking oil
Paper towel
STEP 1
Examine the bottom of the skillet for any holes or pits. If it is only barely pitted, it may be salvageable with some additional seasoning, but if it is deeply pitted, it is quite unlikely that the skillet can be restored to its previous condition.
STEP 2
If the pan has a substantial coating of rust but very little black iron that can be seen through it, soak it overnight in a mixture consisting of white vinegar and water in a sink that has been plugged. Wait at least an hour, but no more than eight, because as soon as the rust starts to come off, the vinegar will start working on the metal itself.
STEP 3
First, wash the skillet with water, and then use a very little amount of dish soap and very fine steel wool to scrub it thoroughly. Create a sudsy scrub and continue to work at it until you are left with the cast iron in its raw state. To clean, give it a quick rinse in some warm water and then pat it dry.
STEP 4
Pour one tablespoon of vegetable oil or another type of cooking oil into the pan, and then use a paper towel to rub the oil into the entire skillet, including the sides, the handle, and the bottom. This will refresh the seasoning. Put it in an oven preheated to 350 degrees for an hour. Before using it, make sure it has cooled down.
To keep your cast iron cookware happy:
You should never clean it with soap or put it in the dishwasher. Instead, after each usage, simply run it under some hot water to clean it.
After cleaning, make sure the pan is completely dry by wiping it down with a clean cloth or by placing it in a heated oven for a few minutes.
After the surface has dried, wipe it off with oil to ensure that it will not stick in the future.
Always place a piece of paper towel between the pan and anything else that you stack it on or place in it to avoid rust and preserve the seasoning.
A closed lid can cause oxidation to occur, so make sure that any lids you use are slightly ajar at all times.
Removing Rust from Cast Iron Furniture and Radiators
Unless you're experienced using a sandblaster, call a pro for larger areas of heavy rust. But for typical rusting, roll up your sleeves and try these tips.
Clean rags
White vinegar
Sanding paper (medium grit)
Steel wool brush
Work gloves
Mask (optional)
Paintbrush
Rust-proof metal paint
STEP 1
White vinegar can be used to remove stubborn stains if it is soaked into a clean rag first. Rub the area with a rag and continue till the bare iron appears.
STEP 2
Sandpaper with a medium grit and a steel wool brush are very effective tools for removing difficult areas. Put on some work gloves and a mask (this is especially important if you are going to be removing paint as part of the procedure), so that you do not breathe in the dust. To determine whether or not bare iron is still visible, periodically check the area with a rag that has been soaked in vinegar.
STEP 3
To remove any remaining vinegar residue and prevent future corrosion of the surface, wash it down with a rag that has been wet with water. To thoroughly dry, use a fresh cloth.
STEP 4
When sanding bigger parts of heavier rust, circular strokes are the most effective. You don't want to leave apparent sanding patterns in the metal, so try to avoid working in any one location for an excessive amount of time. Proceed as instructed in the preceding steps, being sure to rinse with water and dry fully in between each step.
STEP 5
Apply a coat of rust-resistant paint to the metal surface. Check with your paint supplier or the product label to be sure that the paint will adhere to cast iron and preserve it from surface rust. It might be oil, alkyd, or acrylics. (You should always have some paint on hand for touch-ups, such as repairing small chips or scratches as they appear.)
FAQ: Remove Rust From Cast Iron
1. How can you remove rust from iron the quickest?
The simplest approach to removing rust from cast iron is to soak it in a solution of vinegar and water (1:1). Then use a scrubby sponge, scrub brush, or steel wool to remove the rust.
2. How can rust be removed from cast iron without using steel wool?
Instead of steel wool, you might use a scrubby sponge or scrub brush to remove small amounts of rust. Remove the rust by soaking it in a mixture of half vinegar and half water for longer. For stubborn rust, steel wool is the finest option.
3. Can Coke be used to eliminate rust from cast iron?
Coke does include phosphoric acid, which assists in the removal of rust from cast iron. Coke should be poured on the corroded area and left for 15 to 20 minutes to allow the acid to dissolve the rust. Then, using a scrubby sponge or dishcloth, wipe the pan clean. Rep till the rust has entirely disappeared.
4. How do you use salt to eliminate rust from cast iron?
To eliminate rust from cast iron, use coarse salt. Scrub the pan vigorously with one tablespoon of salt. As needed, add extra salt. After you've removed all of the rust, properly clean and dry the pan.
5. Can a rusted cast iron pan be used?
A little rust is fine, but don't let it build up too much. As rust spreads, dangerous bacteria may spread as well. Clean your cast iron pan as soon as you notice any rust buildup to be safe.
1. Culina All Natural Ingredients | Best For Cleaning, Non-Stick Cooking, And Restoring | Cast Iron Cookware Seasoning Stick & Soap & Oil Conditioner & Restoring Scrub & Stainless Scrubber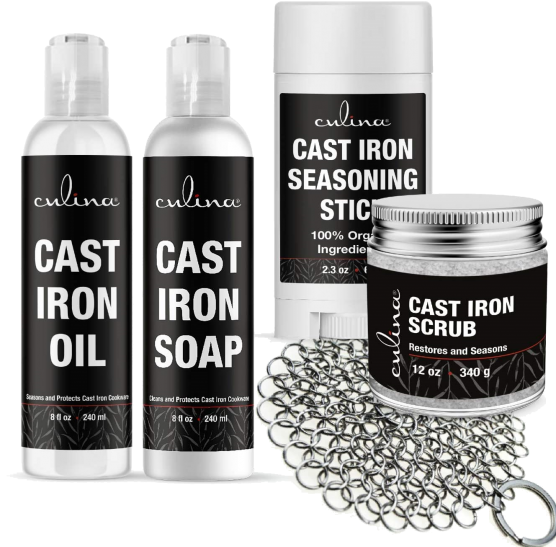 Specification
Brand: Culina
Item Form: Liquid
This substance can be used alone or in a culina cast iron kits to clean: iron polishing kit iron polishing iron kit pan cleaner skillet cleaner iron polisher iron polishing SS seasoning oil iron upkeep iron care set iron clean iron polisher scrubber chain stainless steel spray pan cleaner kit skillet oil cast iron soap bar soap and oil iron spray clean cast iron enamel cast iron skillet dutch oven iron polisher carbon treatment enamel cleanser blackstone & enamel ringer seed eraser cask iron cleaner cast iron polisher iron polishing flaxseed iron.
Conclusion:
Culina Cast Iron Cleanser is a natural cleaner that works on all cast iron cookware, including woks, dutch ovens, griddles, and more. It eliminates odours that are difficult to remove and food that has been cooked on, but it does so without damaging the seasoned cooking surface. Utilize this mild cleaning in conjunction with Culina Cast Iron Conditioner to maintain the quality of all of your cast iron cookware.
Sale
Culina All Natural Ingredients
OPTIMIZER SET | Clean & Season your Cast Iron creating non-stick surfaces that makes cooking and cleaning cast iron easier and...
SEASONING STICK WITH 100% ORGANIC INGREDIENTS | Pure effective simplicity that works every time!
CLEANS CAST IRON | Set includes our Cast Iron Soap unlike detergent based soaps, this soap is formulated with 100% natural...
MADE IN USA | All of our Culina culinary products are Kosher manufactured solely in the United States using the only the highest...
Pros
Helps to remove burnt & stuck on food spots
restore & remove stubborn rust
Cons
2. Culina Cast Iron Cleaning & Restoring Scrub & Brush & Stainless Scrubber | Removes Rust Without Scratching & Care Before Cleaning, Washing, & Seasoning | 100% Natural | For Cast Iron Skillets, Pans, & Cookware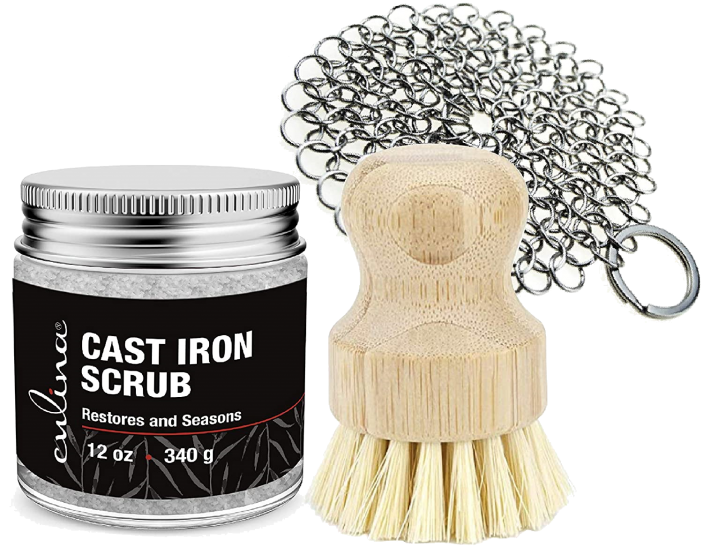 Specification
Brand: Culina
Item Form: Spray
The Cast Iron Scrub is designed to remove food residue and rust marks from cast iron cookware. First, use a Cast Iron Salt Scrub to remove any burnt food or damage. Culina Cast Iron Soap and Culina Cast Iron Oil should be used to clean and remove any remaining food residues before seasoning. 100 percent Plant-Based Cast Iron Seasoned Oil, Cleansing Scrub, and Soap Set intended to produce & maintain the greatest natural non-stick seasoning to your cast iron frying pans, pans, woks, or barbecues.
Conclusion:
Made with such a solvent-less pure coconut base that, unlike its competitors, is safe and guaranteed to not go rancid. Designed to weather & condition cast steel while preventing cookware from moisture which leads to the destruction & rust. Makes cleaning castings easier by generating a season that is non-stick and prevents foods from drying.
Culina Cast Iron Cleaning
RESTORES & SEASONS | Our Cast Iron Scrub is designed to restore & remove stubborn rust spots. Helps to remove burnt & stuck on...
100% NATURAL & FOOD SAFE | Made with a solvent-less, refined coconut oil base that has had it's long-chain fatty acids removed....
WILL NOT SCRATCH CAST IRON | This cast iron scrub will NOT scratch the surface of your cast iron cookware, keeping it in good...
MADE IN USA | All of our Culina culinary products are Kosher manufactured solely in the United States using the only the highest...
Pros
'Stay clean technology' makes cleaning easy by creating a transparent and protective coating to repel dirt
The streak-free formula offers a protective barrier to help resist fingerprints and water spots
Ideal to use on aluminum and chrome surfaces
Cons
3. The Ringer – Patented XL 8×6 Inch Design, The Original Stainless Steel Cast Iron Cleaner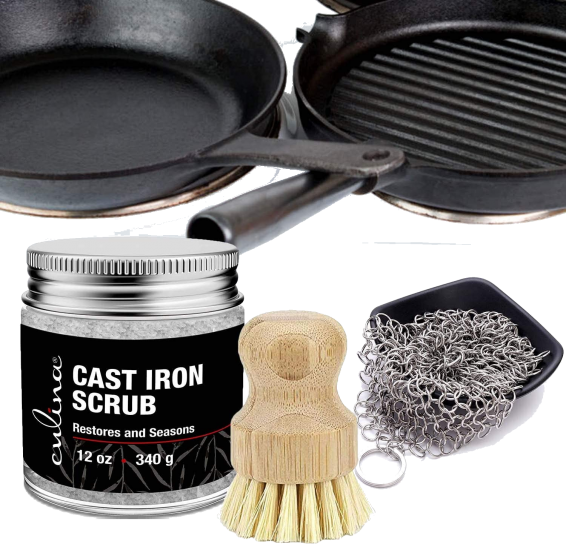 Description
The Ringer is a genuinely unique cast iron scrubber. Our patented design demonstrates that we value quality. We produce a product we believe in, and we hope you will as well. The Ringer is the ultimate kitchen cleaning tool, made with cutting-edge technology and machine-soldered chainmail.
The Ringer - Patented XL 8x6 Inch Design
PATENTED XL 8X6 DESIGN FOR DURABILITY. We don't use just any chainmail. The Ringer uses premium grade never rusting stainless...
MADE IN NORTH AMERICA. When you buy the Ringer, you aren't going to be left with some flimsy, hand-crimped chainmail made...
TOUGH ON GRIT, GENTLE ON FLAVOR. Wash off the grit AND preserve the flavor with soap-less, detergent-free grit removal. You...
MULTI-USE SCRUBBER, DISHWASHER SAFE. Kitchen sponges are 200,000 times dirtier than a toilet seat with 10,000,000 bacteria per...
4. Cleaner For Cast Iron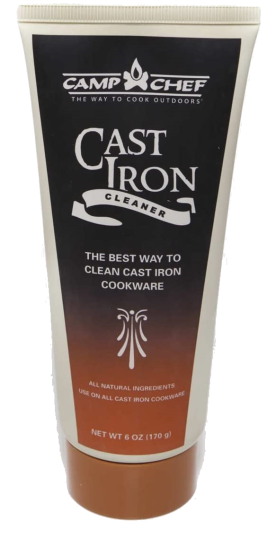 Specification:
Specific Uses For Product: Grill, Oven
Brand: Camp Chef
Description
Cast iron is pleasant to use and Developed in particular for application with cast iron. Cast iron is used to break down food substances and then release those compounds. The ingredients used are 100 percent natural.
Cleaner For Cast Iron
Cast iron friendly and Designed especially for use with cast iron
Breaks down food substances and releases them from cast iron
100% all-natural ingredients
6 oz. bottle
5. Organic Cast Iron Oil & Cast Iron Conditioner (4 oz) – Made in the USA from Flaxseed Oil – Creates a Non-Stick Seasoning on All Cast Iron Cookware

Specification
Brand Kuche Chef
Item Weight 4 Ounces
Also Item Dimensions LxWxH 5 x 2.28 x 2.09 inches
Item Volume 4 Fluid Ounces
Package Weight
Description
For seasoning cast iron, Kuche Chef Cast Iron Oil is a "drying oil," which means it hardens into a firm, durable layer. Using flaxseed oil as a drying oil maximizes the polymerization of fats on cast iron, and flaxseed oil is the only edible drying oil. Whether you're cooking with a Dutch oven, wok, griddler, or a mineral B pan, cast iron oil is a must-have for maintaining your cookware.
Organic Cast Iron Oil & Cast Iron Conditioner
Kuche Chef Cast Iron Oil is made from flaxseed oil that is grown and pressed pure in the USA - North Dakota. It is 100% organic...
We will teach you how to season and prolong the lifespan of your cast iron cookware
Unlike canola oil, palm oil, or other types of common household oils, flaxseed oil is a drying oil. The oil will never go rancid...
Kuche Chef designed this cast iron oil to help restore, build and maintain a natural seasoning on your cookware. Making your...
Remove Rust From Cast Iron:
Thank you for reading!